Google Analytics v4: why and how to create a GA4 property?
Lucas Perrosé
.
January 28, 2021
At the end of 2020, Google launched Analytics v4, the new version of its audience tracking and analysis platform. Although still in beta, this solution is offered as a standard feature when creating a new Google Analytics account. The question then arises whether it is necessary for advertisers using Universal Analytics to migrate to Analytics v4.
Google Analytics v4 in short
The new version of Analytics is part of a new trend in the collection and use of website audience data. Analytics v4 evolves the data collection, adding to cookies – standard data source – proprietary cookies (3rd party) and machine learning to fill the information gap.
Audience tracking, cross-device on Universal Analytics (tracking a user moving from his mobile to his computer for example), also becomes cross-platform on Analytics v4 (site and application navigation data).
The user interaction measurement model has also been redesigned. From now on, data collection is exclusively based on events, unlike Universal Analytics (page views, e-commerce,…). Sampling on reports is natively removed from v4 (as in the Google Analytics 360 version), avoiding any inconsistency between data from several reports. Google Analytics v4 brings many other new features: a redesigned audience builder, an automatic import of audiences into Google Ads, new "Analytics" reports, an integrated debugging tool, a free connector to Big Query (Google's Big Data solution)…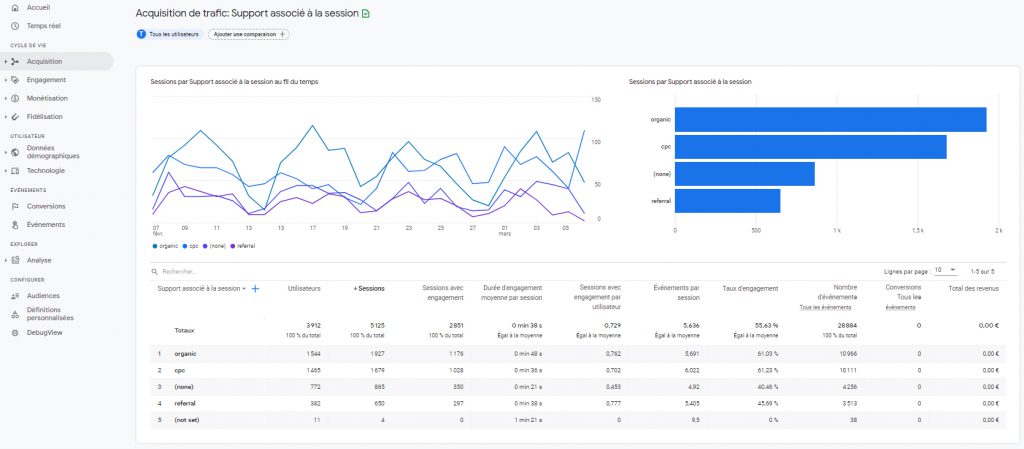 Should I upgrade to Google Analytics v4?
Universal Analytics users can still use this version without any problems, and for the time being, without any deadline. However, we recommend that all Google Analytics users create a v4 property as soon as possible, for the following reasons:
it allows you to use the new features of the tool now,
to anticipate the moment when Universal Analytics will become obsolete (no date announced),
and to start collecting data to have a history when GA4 will be fully functional (the data collected is not compatible with Universal Analytics).
How to create a Google Analytics v4 property?
Google has released a migration wizard to Analytics v4 that allows you to quickly activate a new property. Creating a Google Analytics v4 property from Universal Analytics only requires a few clicks: just go to the administration interface and click on "GA4 Configuration Wizard".


Enable Universal Analytics when creating a new Analytics account
From now on, when creating a new Analytics account, v4 is directly proposed as the basic solution for audience tracking. We advise you to create in parallel a "classic" Universal Analytics property by going to the advanced options when creating the account. This allows you to keep the usual interface and to take advantage of the full functionality, until GA4 is fully finalized.