Paywall SEO: manage the indexing of content accessible by subscription
Lucas Perrosé
.
September 13, 2020
For most media, encouraging their readers to take out a subscription is a major stake in audience monetization. Restricting free access to content in order to convince users to pay for unlimited enjoyment has thus become a widespread practice among publishers. But the question then arises on how to reference these blocked articles: how can we ensure their presence on search engines results – an important source of traffic and therefore, of potential subscriptions – while hiding their content?
The paywall concept
The principle of the paywall is simple: it consists in hiding all or part of a content from users who have not paid to access it (via, for example, a subscription). Today, most major media and press publishers use this solution to generate revenue by subscription (notably via dynamic solutions like Pool): they stir the readers' curiosity thanks to attractive content and restrict access thereto. Thus, those most interested have only one option to know more: to subscribe. If they do, they will gain full access to information and navigation without advertising for better reading convenience.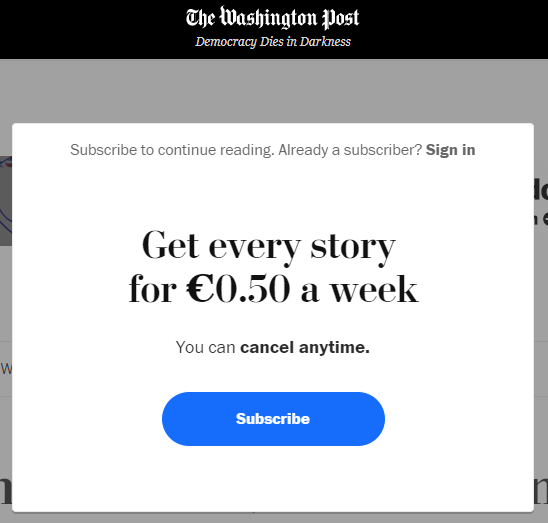 The logic of the paywall in the press is only an attempt to replicate online the paid access to information for "physical" newspapers: reading a newspaper, most of the time, requires buying it or being a subscriber. But the paywall is above all witness to an evolution in the behavior of readers, and an extremely complex financial reality for various press groups.
With physical sales crumbling year after year for Press stakeholders – to speak only of them – and an increasingly digital audience, their income is directly threatened. Digital content consumption is on the rise, a factor amplified in 2020 following the COVID-19 crisis.
This digitization of readership has thus revolutionized the monetization format for the press. Today, 60% of Press revenues come from advertising, hence the need to increase the subscriber volume so as not to depend too much on advertising revenues. Digital subscriptions have thus taken on an important role: for many mediums, they are the primary source of paid distribution, ahead of paper subscriptions. This explains the strategic and almost unavoidable role of the paywall.